🖊️ Sign up here to get the options day trade watchlist every single trading day and trade these levels with the team!
Last Week's Market Activity
This past week we saw some of the largest companies in the world report their Q3 earnings, and things are not looking good for big tech! Alphabet, Meta, Microsoft, and Amazon all came in with massive misses, leading shares to sell down massively. We saw hundreds of billions of dollars worth of market cap erased this past week in just the four aforementioned companies.
Macroeconomic Indicators
Although most of big tech has reported proverbial dumpster fires for this past quarter, we did see a glimmer of hope in terms of GDP. GDP actually came in positive for the first time this year, at 2.6%. It's important to remember though that this is the first estimate – there will be a couple of revisions before we get the final number.
On the flip side, we saw pending home sales down massively, at -10.2%. When compared to the expected 4% decrease, this piece of information shocked analysts and realtors alike. Many believe that we are beginning to see cracks forming in the real estate market.
Upcoming Market Catalysts
Unfortunately, we're not out of the woods yet! Aside from another big week for earnings, we've also got some key economic data releases. Everyone's eyes will be glued to their screens when the FOMC announces the next rate hike on Thursday. Most are under the impression that we'll see another 75 bps hike, but only time will tell!
Additionally, we'll also get some key labor statistics on Friday, such as nonfarm payrolls and unemployment. While these typically don't have as much impact as an FOMC announcement, they're important to pay attention to!
Notable Earnings Releases
Although this week is not as busy as last week, we still have some rather important companies reporting earnings!
10/31 – Stryker Corporation (SYK), Aflac Incorporated (AFL)
11/01 – Pfizer (PFE), BP PLC (BP), Advanced Micro Devices (AMD), Sony Group (SONY), Airbnb (ABNB), Uber Technologies (UBER)
11/02 – Qualcomm Inc. (QCOM), CVS Health (CVS), Estee Lauder Companies (EL), Booking Holdings (BKNG)
11/03 – Toyota Motor Corp (™), ConocoPhillips (COP), PayPal Holdings (PYPL), Starbucks (SBUX)
11/04 – Berkshire Hathaway (BRK.A/BRK.B), Honda Motor Company (HMC)
This week we'll see some of the medium sized tech companies reporting earnings, such as ABNB, UBER, AMD, QCOM, and PYPL. It will be interesting to hear what they have to say with regard to hiring and their outlook for the rest of the year.
We'll also get to hear from companies like TM and HMC, some of the most popular auto manufacturers in the world. All who listen to their earnings call will be curious as to what they have to say about the vehicle market and their supply chains.
Lastly, we'll also get to hear from the Oracle of Omaha, none other than Warren Buffett and Berkshire Hathaway.  Since they have investments in nearly every sector of the economy, they will certainly provide some great broad-strokes info on economic performance!
⚡ Watchlist ⚡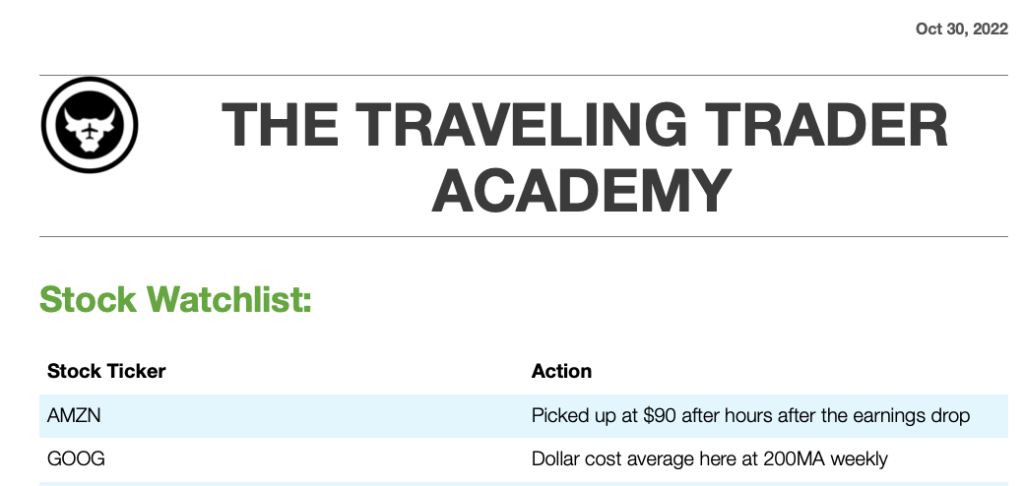 ⚡ Trade Wins from Last Week ⚡