🖊️ Sign up here to get the options day trade watchlist every single trading day and trade these levels with the team!
Last Week's Market Activity
This past week, we saw a tremendous amount of red in the markets, with the Dow down 2.3%, the Russell and S&P 500 down just over 3%, and the Nasdaq down a whopping 3.81% on a week-over-week basis. This incredible amount of red we saw came on the back of hotter-than-expected economic data releases and a very mixed bag of corporate earnings.
Macroeconomic Indicators
Surprisingly, the market-moving information that came out last week was not in the form of an economic data report. Instead, the concerning news we heard came mainly from individual companies. Tesla came in with worse-than-expected numbers, citing a decline in demand and high interest rates as the culprits. Additionally, Solaredge put out a statement saying that a drastic slowdown in Europe would considerably impact their Q3 numbers, sending the stock down over 27% in a day, leading other dollar companies like Enphase Energy to trade down in sympathy.
Upcoming Market Catalysts
This week will be incredibly busy, as we have some very important economic data releases and earnings releases! In terms of economic data releases, we'll get the first reading of Q3 GDP on Thursday, followed by nominal personal income/spending, consumer sentiment, and PCE data on Friday. Depending on where these metrics come in, we may see quite a bit of volatility in the markets. When you couple this with the fact that we have a stacked week of earnings, things are bound to get interesting!
Notable Earnings Releases
This week, things heat up, as we have most of big tech reporting their Q3 earnings alongside some of the largest companies in the world outside of tech, such as:
10/23 – Cadence Design Systems, Inc. (CDNS), POSCO Holdings Inc. (PKX), Brown & Brown, Inc. (BRO)
10/24 – Microsoft Corporation (MSFT), Alphabet Inc. (GOOG/GOOGL), HSBC Holdings (HSBC), Visa Inc. (V), The Coca-Cola Company (THE), Novartis AG (NVS), Danaher Corporation (DHR), Texas Instruments Inc. (TXN), Verizon Communications (VZ), General Electric Company (GE), Barclays PLC (BCS)
10/25 – Meta Platforms, Inc. (META), Thermo Fisher Scientific, Inc. (TMO), T-Mobile US, Inc. (TMUS), International Business Machines Corporation (IBM), ServiceNow, Inc. (NOW), The Boeing Company (BA), Automatic Data Processing Inc. (ADP), CME Group (CME), Canadian Pacific Kansas City Limited (CP), Equinix, Inc. (EQIX), General Dynamics Corporation (GD), KLA Corporation (KLAC)
10/26 – Amazon.com Inc. (AMZN), Shell PLC (SHEL), Mastercard Inc. (MA), Merck & Company, Inc. (MRK), Linde plc (LIN), Comcast Corporation (CMCSA), TotalEnergies SE (TTE), Intel Corporation (INTC), United Parcel Service, Inc. (UPS), Honeywell International Inc. (HON), Bristol-Myers Squibb Company (BMY), Altria Group (MO), American Tower Corporation (AMT), Northrop Grumman Corp. (NOC)
10/27 – Exxon Mobil Corporation (XOM), Chevron Corporation (CVX), AbbVie Inc. (ABBV), Sanofi (SNY), Equinor ASA (EQNR), Charter Communications, Inc. (CHTR), Aon plc (AON), Colgate-Palmolive Company (CL)
This week, all eyes will be on big tech, as companies like MSFT, GOOG, Meta, and AMZN report their earnings. Not only will their earnings move the markets and the indices in a tremendous way, but they will also set the tone for the rest of the earnings season!
There will also be a tremendous amount of interest in the payment processors, V and MA. After AXP stock slumped last Friday, despite a great earnings report, analysts and retail investors alike will be eager to hear what the other two payment processing giants have to say about their business in Q3.
Lastly, we'll get to hear from some very important players in the chip space, such as TXN, KLAC, and INTC. These companies will give us a great idea of how the chip space is performing, and what they have to say will likely impact huge players in the space like AMD and NVDA.
⚡ Watchlist ⚡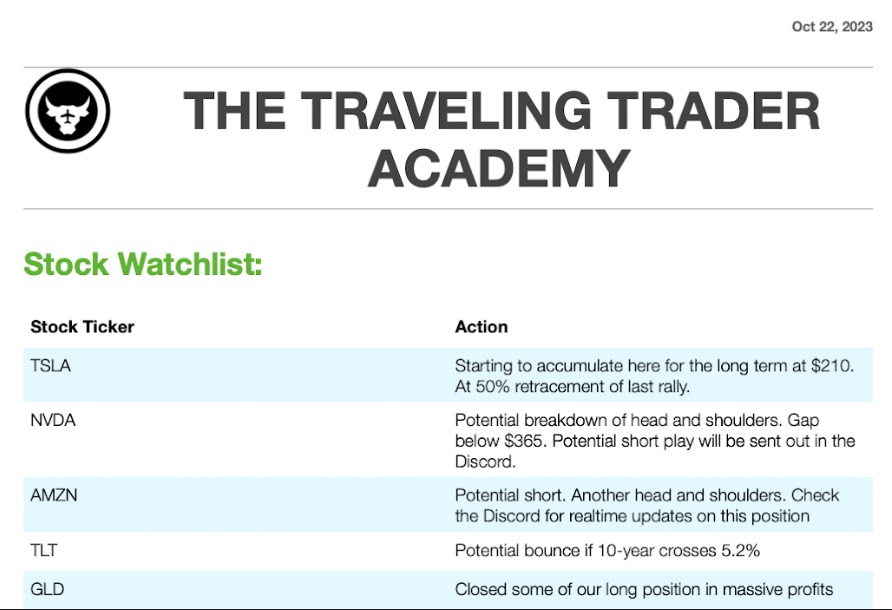 ⚡ Trade Wins from Last Week ⚡